Supply Chain update
A letter to our suppliers from our new Supply Chain Director

Dear Supply Chain Partners
The last few years have been an unprecedented and challenging time for all of us but, thanks to the relentless commitment and dedication of the entire team and especially that of our supply chain, we've seen our businesses remain successful and even grow during this time.
Over the last year we've done so many positive things:
our inaugural awards lunch held in November where we celebrated our successes and got to see our clients and suppliers in person for the first time in a long time,
the launch of Hastings Home Claim Services which is a ground breaker for MA Group,
the introduction of RSA Principal Contractor,
new contracts with major house builders, housing associations and build to rent specialist such as Legal & General Affordable Homes, Persimmon and L&Q,
Supplier Days, forums for improving working practices, golf days and so many more things.
It's has been difficult time for you, our supplier partners, because of the many external pressures being faced like cost-of-living increases, labour shortages, ever increasing material costs and delivery times, fuel shortages and then fuel price hikes, and not to mention the always present COVID-19 which is still impacting staff sickness levels.  To help combat this, at the start of the year we secured significant rate increases with all of our clients and these will continue to be reviewed annually to ensure they are competitive for insurance works.  We've also brought on new clients and changed the way we work with existing clients so that we can pass more work along to you, our supplier partners.  We continue to pay weekly to terms, and we will keep looking for ways to support you and your business through these difficult times.
Now on to the future. Many of you know me as the Client Director responsible for RSA and you might be wondering why a "client person" is writing to the supply chain. Well, from today I am no longer a "client person" – I have taken over the role of Group Supply Chain Director from Tony Derbyshire who has moved on – we wish him all the best in his new endeavours.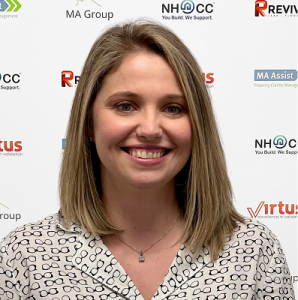 For those of you who don't know me, I'm Melissa Bridges and I have been with the MA Group for 20 years in various roles and I have a wealth of experience in the insurance industry. I know how our clients think and I know MA Group inside and out.  I also have the benefit of a fabulous team who will continue to work with you and support you moving forward.  What I bring to the supply chain team is a foundation of sticking to the basics, trusting the system and dealing with the exceptions. I have a deep understanding of how to bring the team together and how to approach change and innovation so that we get the best results for everyone.  Some things will change of course and I wanted to let you know what the vision is for the supply chain team for the next year.
Our vision is to:
represent MA Group with supplier partners and clients,
manage and motivate our supply chain partners,
ensure robust compliance in our supply chain,
engage with our supply chain at all levels, providing help, advice and support to our peers and partners,
deliver the results and being proud of them,
live our MA Group core values.
There will be some changes to the Supply Chain Team too.  To date we've been working in our individual areas of  NHCC, Virtus, Revival and MA Assist and this is going to change.  We'll be working much closer together as a supply chain team, learning and taking best practise from our colleagues. You may not know some of the key individuals in the team:
James Bush, our Managing Director of NHCC
David Shimwell is our Divisional Director for Revival with overall responsibility for both the strategic development and all aspects of the day-to-day performance of The Revival Company
Samantha Butler is our Divisional Director for Virtus Validations and her role is to develop the Virtus proposition to clients, now and for the future, and to provide management of the Virtus surveyor
Marc Etchells is our Head of Supply Chain and his key focus is the MA Assist Builder Repair Network – to demonstrate, promote and drive excellence and continuous improvement in all we do.
We've got a new Supplier Performance Manager joining us in September – Kirsty Kenyon.  Kirsty has managed national networks and comes with a wealth of experience – we're really looking forward to her joining the team.
Our other Supplier Performance Managers are Justin Scargill and Aaron Baker who are also important to delivering our vision and supporting our suppliers.
We're also aligning our Network Support Officers to provide support across the board to NHCC, Revival, Virtus and MA Assist.
We are here to work with and support you to do what it is you do best – looking after our customers and providing excellent service.  We're here to listen and make changes where we can to improve how we work together.  Sometimes it's not possible to change things quickly, but we want to communicate better and tell you what we can do, what we can't do and why and when we'll be able to make changes.
Your SPM is your first port of call for overall relationship contact and anything that's not claim specific such as performance reviews, capacity discussions etc.
Our Network Support Team is here to do just that – support you with individual claims, if you need urgent authorisation, don't understand the rates and what you can charge for – they're here to help. You can get hold of them using these details:
0333 006 8002
Online or in person meetings
So, what's in it for you?  You can expect a closer working relationship with MA Group.  We'll be communicating with you much more and you'll know more about what we're doing as a business and how that impacts you.  We're looking at ways to improve our closing processes to make it easier for you, as well as system improvements to assist with scoping and regulatory requirements for CDM and H&S purposes.  We want to engage more with you and understand what's working for you and what's not and most importantly to shout about the things that you're doing well and the great news stories you deliver daily.
On that note, we'd like to invite you to submit you entries for the Supplier Special Project award which will be presented during our annual lunch in November.  More details to follow shortly on how you submit your entries.
The crucial aspect I want to bring to this role is one of working together for the best outcome for your business as well as ours and I hope that the message you take away from this letter is better team working and communication.