MA Group Annual Awards Lunch
Congratulations to all the NHCC annual award winners

Thank you to everyone who came to the MA Group Awards Lunch on Tuesday 17th January in the stunning Chartered Accountants Hall in London. Congratulations to all the MA Group winners, and in particular the NHCC award winners:
NHCC Supplier of the Year – Higgs Building Services
Higgs Building Services have been working with NHCC since 2021 when they first joined the MA Group Builder Repair Network. Higgs do a large volume of work for NHCC and deliver a consistent, reliable, and well managed service to the benefit of our clients and their customers. They always provide NHCC with regular updates throughout a job from the point the works are originally assigned.
Higgs are great at communicating and are very flexible and are always proactive and go out of their way to deliver great customer service. On top of this the quality of works carried out by Higgs is always high.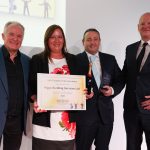 NHCC Client Excellence Award – HUB
HUB first engaged with NHCC in 2019 to deliver customer care services at their Chesterfield House Development in Wembley. From the outset of our working relationship HUB have demonstrated an unfaltering commitment to customer care that deserves recognition. This 2022 client excellence award recognises the investment HUB have made in customer service delivery at Queens Quarter in Croydon.